Few Tips For Effective Furniture Cleaning
For every family, a living room is a comfortable place where family relax, eat and spend time with children.
Spending a significant amount of time playing and eating with children in the same place for longer time will accumulate some dirt and dust. Especially we will see that dirt on carpet, on sofa and on armchairs if we have them in living room.
So, a place like living room must be regularly cleaned to remove that dirt, dust and even some small pieces of food. Of course, we shouldn't forget that in place where we are spending longer time, there  will accumulate also millions of bacteria and for good condition of health of our children we have to remove that bacteria as many as possible.
Regular cleaning of furniture and carpet in living room will guarantee high standard of hygiene in our house.
Furniture Cleaning, Furniture Upholstery Cleaning
Before  you decide to clean upholstery, you have to know the kind of fabric and the proper cleaning methods for different upholstery. Without this knowledge, you can destroy upholstery furniture irretrievably.
Vacuum your upholstery furniture first, pay attention to vacuum under pillows and  around seams for the best results.
To clean stains, you need to know the different types of stains.  Each stain requires a different treatment. For some stains, enough will to use warm water with detergent
Stains due to food, dirt, tea, coffee and wine respond very well to steam cleaning. Some stains need different kind of treatment, and need more than one treatment.
For some stains, example oil stains, ketchup and red wine, the best will chemical cleaners to remove stains.
For big and hard to remove stains on upholstery, the best is to rent steam cleaner or hire cleaners company.
To keep your upholstery furniture looking good and smelling good, it is important to do periodical deep cleaning and sanitizing them.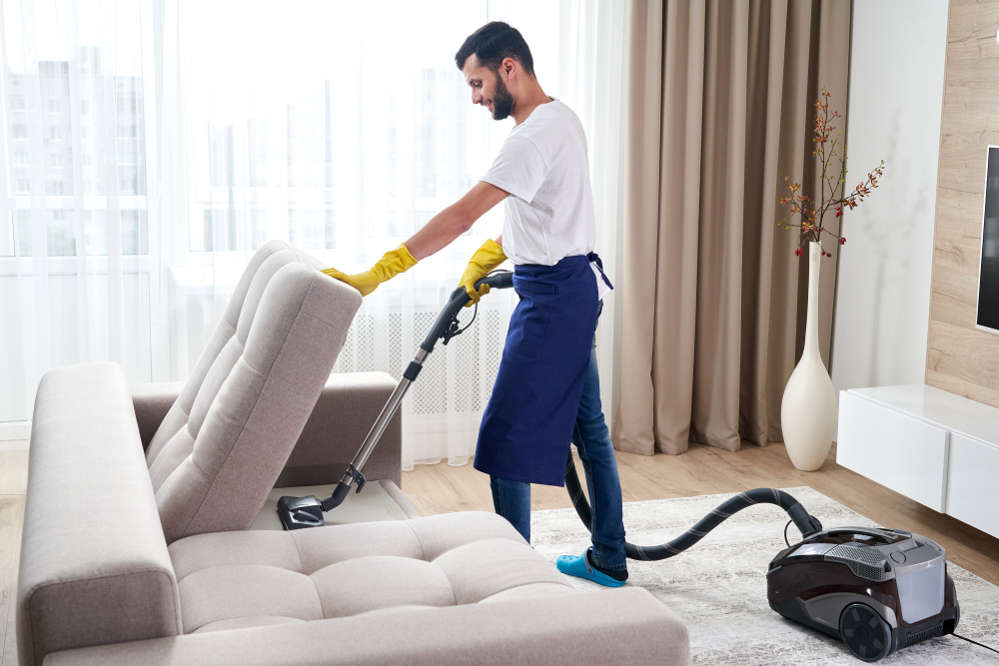 Carpet Cleaning
regular vacuuming to remove dust, dirt, grit, pieces of food and hairs which are laying there, but we don't see them.
washing carpets every 12 months is necessary, for this cleaning the best is to hire professionals. Hiring professionals, let you choose method of cleaning carpets, for example  you can choose steam cleaning.