Cheap mattress disposal London
We Clear Everything, a house clearance service offers for our customers many kinds of houses clearance services
in London.
Whatever we are doing our job is always effective, eco-friendly and full professional.
Among many kinds of houses clearance services we provide in London is mattress disposal.
Mattresses are in many beds to provide support and comfort to a person while sleeping or at rest.
They are made of thick cloth containing amounts of cotton straw, foam rubber and at times metal springs.
These components make a mattress to be a strong but cumbersome to move.
Disposing of a mattress become a really troubling matter for any homeowner.
A mattress cannot be thrown on any dumpster.
What to do then?
The best option you have is to hire a reliable London mattress disposal service.
We Clear Everything team will deal with your problem and help you dispose of your old mattress.
You even no need to touch your old mattress. Our peoples will do it all.
From removing from your bed till pack on truck and send to recycling service.
Call us free on ☎ 020 7164 6963
We book a time slot when we'll come to collect your old mattress in London.
Services
We Clear Everything are specialists from house clearance and office clearance in London.
Everyone wants to have more free space in their house, and we are ready to give you this comfort.
We provide services:
For your conveniences we are time flexible and mattress disposal service we can start any time.
Call on ☎ 020 7164 6963 and book your mattress disposal with us.
Type of rubbish we can remove from your house: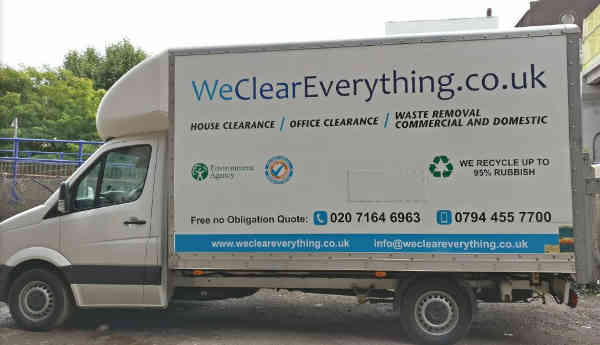 Furniture
Mattress
Clothing
Electrical appliance
TV or monitor
Toys
Old bags and luggage
Office equipment
Papers
Personal assorted rubbish
Metal
Plastic
And much more
Our prices include:
Removal staff
Loading
Recycling fee
Disposal fee
From us, you will get perfect and cheap London attic clearance service.
Select a time that suits you, and we will do our job on-time.
To find out more information about We Clear Everything and to order our services
give us a call ☎ 020 7164 6963
or use contact form below.
Mattress disposal London we provide in :
Acton
Barnes
Barnet
Camden
Chiswick
Chelsea
Clapham
Ealing
Enfield
Fulham
Golders Green
Hackney
Hammersmith

Hampton
Hampstead
Holland Park
Hounslow
Islington
Kew
Kingston
Kensington
Knightsbridge
Lambeth
Notting Hill
North London
Putney

Richmond
St Johns Wood
Southwark
Shoreditch
Tower Hamlets
Twickenham
Vauxhall
Wandsworth
West London
West Hampstead
Wimbledon
Westminster