Effective house clearance Hounslow
TW3 | TW4
If you are looking for good team to care of house clearance and your domestic rubbish removal issues in Hounslow TW3 | TW4 We Clear Everything team is always ready to help you.
We Clear Everything team takes care of every kind of rubbish, from old furniture and electronic to builders waste and papers from offices.
Call us ☎ 020 7164 6963 and contract your house clearance and office clearance with our dispatcher.
If you need urgent house clearance we can do it for you probably the same day.
We Clear Everything provide in Hounslow TW3 | TW4 :
Call and order free quote for your house clearance, Hounslow.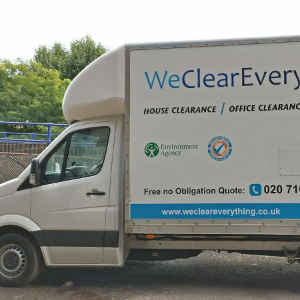 We will take from your house and office:
All furniture
Carpets and curtain
Washing machines
Refrigerators
Clothes
Books and pictures
Papers and documents
And anything else you don't need at home or office
We Clear Everything from London offer for you personalized and highly effective house clearance in Hounslow TW3 | TW4

Book us and enjoy your free space at your home in Hounslow !
Hounslow TW3 | TW4
Hounslow is a district of west London, England, southwest of Charing Cross. It is the administrative centre of the London Borough of Hounslow.
Hounslow has a large shopping centre which adjoins its high street and a large number of restaurants, cafés and small businesses, many of which are associated with product assembly, marketing, telecommunications and London Heathrow Airport. It is connected to Central London by rail and tube.